Wojenski Restoration Siding Services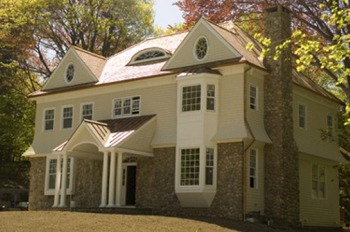 Providing siding installation and repair services in Connecticut's diverse weather conditions will require professional workmanship and high quality materials. The sudden temperature changes that we receive in the Northeast will cause siding to warp or become damage when it is not installed correctly. This is why the siding installation and repair contractors at Wojenski Restoration are engaged in choosing the best possible materials and installation technicians when performing our services.

We specialize in Vinyl Siding, Cedar: Clapboard and Shingles, and Hardi Plank. Located in Stratford Connecticut, we serve the entire surrounding region as a quality commercial and residential roofing company, including Greenwich, Westport, Fairfield, Milford, New Haven, New Britain, Waterbury, Hartford, Danbury, and beyond.

Wojenski Restoration makes use of the recent advances in the technology of residential and commercial siding, which conveys a much more durable and uncompromising siding system. We also have many different types of colors available with profound textures that will emulate the authentic look and feel of wood. We also offer a variety of trim options that are available in an extensive range of styles that correlative colors that can offer a customized look for your residential or commercial property.

Vinyl siding has become the most popular siding material for restorations and new constructions for residential or commercial properties due to its strength, energy efficiency and low maintenance. Vinyl siding is made from plastic, which makes it very durable and it will last a lifetime it will not rust, chip, rot, or warp unlike wood and aluminum. Vinyl is also less expensive to purchase and install than most other siding materials. Vinyl siding comes in a number of shapes, colors, and textures. While it can be made to emulate wood or fiber cement siding in color and texture

At Wojenski Restoration, we guarantee our work, and we will provide the most effective and efficient siding installation or repairs available, while staying within your desired budget. Our team of experienced contractors are experts in dealing with any exterior or interior restoration project you might have from roof installations, to siding, to paining, to dry-walling, we can help you with it all.

Please feel free to continue exploring our website to read more about our Commercial and Residential roofing, siding, gutters & chimney, hauling and trucking, and exterior restoration services and applications. You can head over to our photo gallery to view photos from some of our recent projects. Contact us today at 866-375-7443 for a free consultation and estimate!