Wojenski Restoration Roofing Services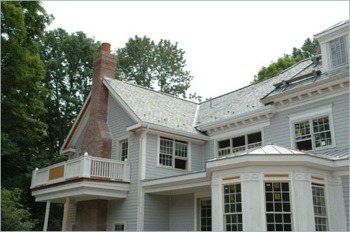 Wojenski Restoration specializes in commercial, industrial, and residential roofing installation, repair and maintenance services. Located in Stratford Connecticut, we serve the entire surrounding region as a quality commercial and residential roofing company, including Greenwich, Westport, Fairfield, Milford, New Haven, New Britain, Waterbury, Hartford, Danbury, and beyond. As a commercial and residential roofing company, we provide various types of roof installations. We are thoroughly experienced and approved to install major roofing systems utilizing materials such as asphalt and fiberglass, slate, shingles, tile, wood and seamless K style copper.

If you are having a problem with your roof, it can be a very stressful situation. Roofing issues can be very complex and costly so choosing a trustworthy roofing contractor is very important in resolving the issue and ensuring your long-term confidence in the project. Our many years of experience working in the roof installation and repair field will ensure that you will have a quality roof installed that will last for many years to come.

Whether it be basic shingle roof installation and repair, or an entire roof replacement for your residential or commercial project, our experienced team of roofing installation contractors will complete the project professionally, efficiently, and with minimal disruption to your home and work life. We are knowledgeable of the latest local zoning laws, building permit needs, and homeowner association rules that apply to each project. A crucial element to a successful roofing project is hiring a contractor who is both familiar and capable of installing several different types of roof systems. We can install a custom roof that best suited any type of layout or design. It is imperative to install the proper roof system that is designed to meet your needs.

Please feel free to continue exploring our website to read more about our Commercial and Residential roofing, siding, gutters & chimney, hauling and trucking, and exterior restoration services and applications. You can head over to our photo gallery to view photos from some of our recent projects. Contact us today at 866-375-7443 for a free consultation and estimate!